Mobile web design is a version of your website that fits a mobile device (cell phone vertically, horizontally) in a way that tough elements are located far enough from each other and that there is no horizontal scroll. In other words – your website is mobile friendly. Such web-design, on average will result in 70%-200% conversion rate increase in users who search through their mobile device (cell phones in most cases). Responsive web design as well as Adaptive design all serve the same purpose - to have your site look and feel good on any device.
Is it really all that Important?
It is. By late 2016 – over 50% of all US/Canada based purchases online will be made through a cell phone or a tablet. This is backed up by larger cell phone screens, ever increasing mobile data transfer speeds (internet connection) and "one click cell phone payments" (your phone is slowly becoming your wallet).
Moreover, in early 2015 – Google Webmaster Tools started to seriously address the user experience if a visitor is forwarded to your site form Google. Simply put – if your site is not cell phone friendly – you will rank lower within the ever growing mobile search. Thus, your sites mobile usability must be up to the modern day standards which will benefit both your user and your Search Engine Positions.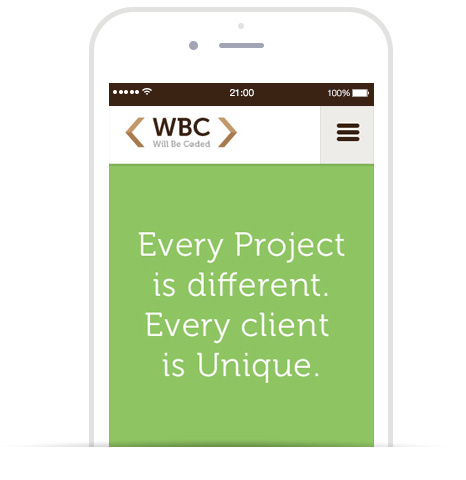 If your site does not have an adaptive (convertible) design – your business is not future-proof.
How Fast Can I have a CellPhone-firendly version of my site Up?
It depends on number of factors yet if no significant design changes are needed – then we can have a 20 page site's 320 p version up and running within a week. In other cases client's web site design may be out of date and require a facelift. If a new design is needed both for the desktop site version, tablet website version and mobile – it may take up to a few months. Feel free to contact us at any time.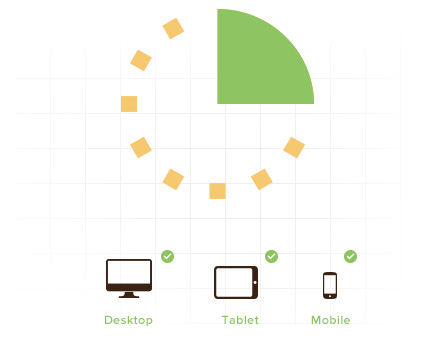 We Make Friendly Mobile Website Designs
WillBeCoded's mobile web designs are intuitive and futureproof. With over 10 years in web design industry we are confident to satisfy any client. Today, many sites are still in need to be upgraded to a mobile responsive design. In some cases such task is easy in other cases – it is extremely complex. The complexity of such task is case-sensitive and calculated individually for every client. We offer responsive web design services with one goal in mind – to deliver YOUR users top level mobile website browsing experience and as the result – to increase your mobile user's conversion rates.
Our Main Advantages:
- Over 10 years of web design experience
- Vancouver-based Company
- Competitive Pricing Policy
- Up-to-date technologies
- Trusted mobile website Design Company
- Multiple Draft Design Proposal Revisions
- Free Consultations and Audit
Responsive and mobile website designs are now almost mandatory to have in order to compete in mobile search engine results. Not only that you directly benefit from higher conversion rates and better user content engagement – as a side effect you get better rankings in Google. Moreover, all the web design projects that our company has done since 2014 have been mobile friendly. Being the best responsive web design company in Canada – we take pride in serving many customers across the border in the US.
Mobile web development prices could vary based on your websites' current design, complexity and number of pages. If you have a basic (none e-commerce) web design with under 5 unique pages than you will qualify for our base price of $1999 (for an existing website design upgrade). In some cases customer's designs are far outdated. For such outdated designs we will offer a complete redesign from ground up – that will add more cost to the final price. On average the whole web design makeover process will take anywhere from 6 to 8 weeks. Please contact us for details.
Such solution is designed for businesses and personal websites that require a current web-design to be adjusted / upgraded to a tablet and mobile phone friendly Web Design.
Cross Browser
Compatibility check
According to Google
Guidelines
Lightning Fast Performance
Preservation of Current
Features
SEO friendly Mobile Design
Free Consultations & Audit
Feel free to contact us at any time
If you require a personal business meeting with one of our senior Project Managers – let us know and we will be more than happy to schedule a meeting.
© Willbecoded, 2023 - Best IT solutions company! All rights reserved.