How much should I pay for quality SEO services?
Professional SEO should start from around $ 900 / month and here is why:
Let's set a few things straight: SEO could give you up to 3 times as much sales as Pay Per Click (PPC). When it comes to our customers – we would trade #1 PPC position for #1 organic search position on any given day of the week. Not only that organic top search positions will get you up to 3 times as much visitors as paid search – best thing is such "organic visitors" are twice as likely to purchase your product or service.
Below is an example of alike traffic flow through Google's PPC and Organic search channels:


User engagement and user conversion rates are evident. Conversion rate is almost twice of the "Cost per Click" one.
How does paid search effect organic results?
Now, having these facts explained it is safe to say that #1 Google Organic Search Position is likely to generate 5 times as much profit as #1 Paid Search Position. If you are already PPC (CPC) maxed out – your next logical step to growing your business would be looking into your Organic Search Positions standing.
For those of you who wonder how Paid Search effects #1 Organic search position – here are some facts: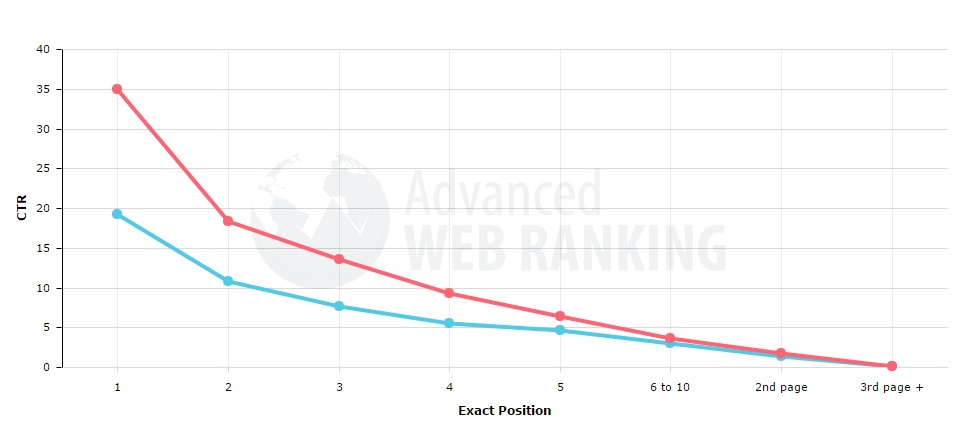 Red graph – paid search is turned off (no AdWords) – #1 organic position gets 35% of all traffic (varies from month to month).
Blue graph – all Adds are turned on all around the organic search results – #1 organic search position now gets around 20% of all traffic (considering you have 9 other organic results as well as up to 10 paid results – that is still very good). Now that we know how extremely valuable organic top search positions are – we can discuss the cost and effort it takes to reach such rankings.
Estimating SEM Cost
If you have been online long enough – you most likely get some "overseas" SEO offers on weekly, if not daily, basis. We get such emails a lot. The basic message across those e-mails fast results for 100 bucks. Quality SEM must be performed by professionals and thus can not be cheap. Cheap SEO – will do nothing for you or will get your website penalized and out of search completely.
Signs of low quality SEO Company:
Cheap cost regardless of your business niche
Based "overseas"
No Google Analytics certification
No results to show for
No "Individual" approach
No SEO strategy presented
Servicing over 1 client within same competitor niche
Shady and unclear promotion techniques
Signs of high quality SEM Company:
US, Canada or UK based;
Interested in long lasting partnership & results;
Google Analytics Certified;
Personal Manager for every project;
Servicing up to 1 client within same niche;
Clear representation of SEO strategy;
Top Search results to show for;
SEO contract with clear conditions;
Personal meeting with your SEO manager;
What should effect SEO cost (per website):
#of products you are promoting
Websites' "good standing" (no penalty)
Websites SEM "readiness" (overall content shape)
#of competitors within your segment
Strength of competing websites
Level of the SEO company you sigh up with
Depending on the factors above a high quality SEO company will decide on how much effort is needed in order to achieve the mutually agreed on results. If you would like to hire a high quality SEM firm full time (40 hours per week) be prepared to lay out $5 000 or more per month. If it is decided that your goal can be achieved at a lower expense the cost could even be reduced to $1 000 / month.
Quality SEO firm will do more!
Search Engine Optimization is a number of critical tasks that include the following sub services:
Initial WebSite Audit
KeyWords Research
Competitor Niche Analysis
On-Page Website Optimization
Google Analytics & WebMaster Tools Analysis
Disavow File Audit
Off-Page Optimization
Content Marketing
Re-Marketing (Facebook, Google)
Social Media Marketing
Reputation Marketing
Personal Project Manager
Monthly Reports
Our final advice
The following advice is given considering that you really care about your project and you are online to stay for many years to come. If you do not have the budget – try to do your SEO yourself but NEVER hire cheap overseas SEO services. Never settle for an unknown SEM company as they are likely to do more harm than good and move on to another client once you stop paying. Look for honesty, reliability, availability and reputation. Any professional SEO company will tell you that you really have to work hard on your SEO in order to succeed. Feel free to contact us if you would like to know more or if you have any critical thoughts about this article. Thank you.
One last thing
If you want to see an illustration of how SEO (combined with other advertising tools) can be done, read this article about running a campaign for a reputable law firm.